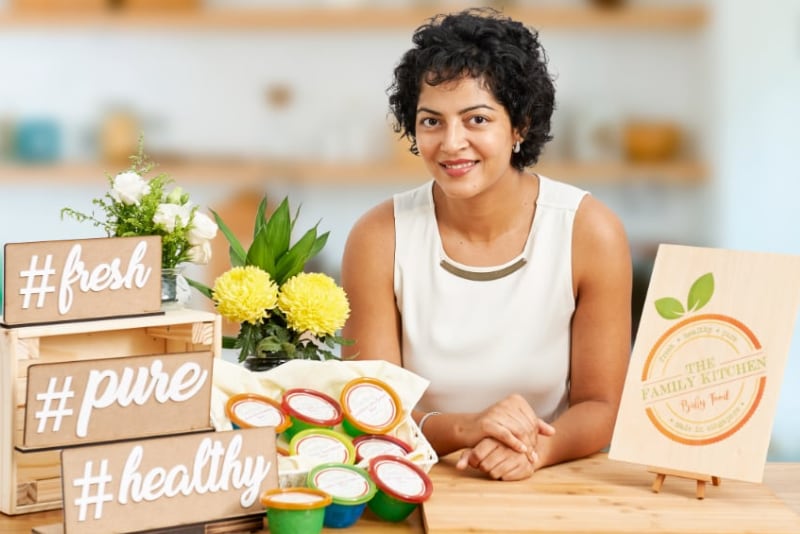 What was the inspiration behind The Family Kitchen?
Right from childhood I have been very inspired by my mother's and grandmother's cooking. Everything we ate was always freshly sourced and it had to be homemade. Something that's etched in my memory is my mother always making time for mealtimes to cook hot and fresh food for us. This is despite her being a gynaecologist and having a roaring practice. The concept of fresh food that's preservative-free was a big part of the philosophy behind me starting The Family Kitchen.
Why did you launch with Fresh Baby Food?
When my daughter started solids, everything was freshly made with the best organic ingredients, and as these were fresh, they only lasted a few days in the fridge. This got me thinking about commercial baby food pouches that last on the shelves for months and wondered what that meant in terms of preservatives, stabilizers and processing. The thought of babies eating processed, homogenous purees where you can barely taste the ingredient you are supposed to be having didn't appeal to me and that's how The Family Kitchen was born, out of necessity. We launched with fresh, preservative-free, tasty, nutritious and healthy baby food because we wanted busy parents to have tasty, healthy and convenient options for their little ones.
What is special about the Wholewheat Biscuits and the Supergrain Cookies?
We launched with baby food and then as our customers (babies) grew up, parents wanted healthy snack options which are made fresh and are not from a packet or heavily processed which is when we launched our Wholewheat Biscuits and Supergrain Cookies. We follow a concept of stacking when we create our products so we start with the base ingredients which are nutritious and healthy (nothing processed) and then perfect the recipe by working with a nutritionist and doing multiple lab tests to ensure that the final product is healthy, clean, nutritious and meets our highest quality standards. The most important thing is that there is nothing unnecessary or artificial in any of our products as they are made with ingredients you will find in your family kitchen. I am proud to share that both these products are unique because we use really nutritious ingredients and absolutely don't compromise on the health aspect of the product and nothing like this exists in the market.
Why did you launch Fresh Almond Milk by The Family Kitchen?
I owe this creation to my younger daughter. She is dairy intolerant so after breastfeeding ended, I was on the lookout for dairy alternatives. We tried oat milk but she wasn't gaining weight as it wasn't nutritious enough so the doctor suggested that she needed more of the good fats and natural protein so we should try Almond Milk instead. We tried all the brands in the market but unfortunately all of them gave her some sort of allergy or rashes. We realised that she was reacting to the chemicals and the stabilizers in the factory-produced almond milk which are usually put there to increase the shelf life of the product. And she probably wasn't gaining weight because commercially-available almond milk is heat-treated to make it last longer but, in the process the milk loses its nutrition value.
And thus, was born Fresh Almond Milk by The Family Kitchen. After lab testing it, we compared our nutrition values with commercial brands and realized that our product is far superior because the bottom line is it has 82 almonds per bottle. And that's the best part of using real ingredients is that there is nothing to hide…in fact there's so much to celebrate – great nutrition and amazing taste.
What is your vision for The Family Kitchen?
Our vision for The Family Kitchen is to produce fresh food made with clean and pure ingredients that is healthy, balanced, nutritious and wholesome and is absolutely free from any preservatives, chemicals, stabilizers. We promise to the uphold the integrity of every ingredient so our customers keep coming back for amazing taste, superior quality and unparalleled freshness.