Fresh Almond Yogurt
Taste the first-ever, revolutionary, fresh almond yogurt made right here in Singapore. Packed with probiotic live cultures it is the creamiest and smoothest; zero-sugar and dairy-free; plant-based and vegan; gluten-free yogurt you will ever taste!
Ingredients: Fresh almond milk (99%), 4 billion+ probiotic live cultures, agar-agar and tapioca starch. 
We at The Family Kitchen believe that the best food for our bodies is that which is Freshly Made and is absolutely free of any preservatives. Which is why we make right here in Singapore and we do not add any preservatives, chemicals, stabilizers to increase the shelf life of our products. We promise to the uphold the integrity of every ingredient so our customers keep coming back for amazing taste, superior quality and unparalleled freshness.
We believe in the wholesomeness of food which is why we follow a concept of stacking when we create our products. We start with the base ingredients which are nutritious and healthy (nothing processed) and then perfect the recipe by working with a nutritionist and doing multiple lab tests to ensure that the final product is balanced and nutritious and meets our highest quality standards.
We believe that food should not be tampered with which is why all our products are clean and are free from any harmful chemicals or artificial sweeteners. There is nothing unnecessary or artificial in any of our products as they are made with ingredients you will find in your family kitchen. And everything we produce is safe to be consumed by the whole family; Babies, children, adults and grandparents. Because we are The Family Kitchen. 
About Us
Shop Our Products
Life By Design with Taruna Aggarwal
Spotlight - Business Series
The Family Kitchen was featured in a recent episode of Spotlight – Business Series on the YouTube channel Life By Design with Taruna Aggarwal where they shine the light on emerging Women Entrepreneurs with a focus on their business.
Why Everybody Loves Our Products
Fresh Almond Milk
82 Almonds Per Bottle
Containing 82 almonds (25% almonds) per bottle, our signature Fresh Gluten Free Almond Milk is made right here in Singapore. It is 100% Free of any Preservatives, Stabilizers, and Synthetic Chemicals. That's why it has a shelf life of just 5 days.
We also do Weekly Subscriptions
Pick any of the Options Below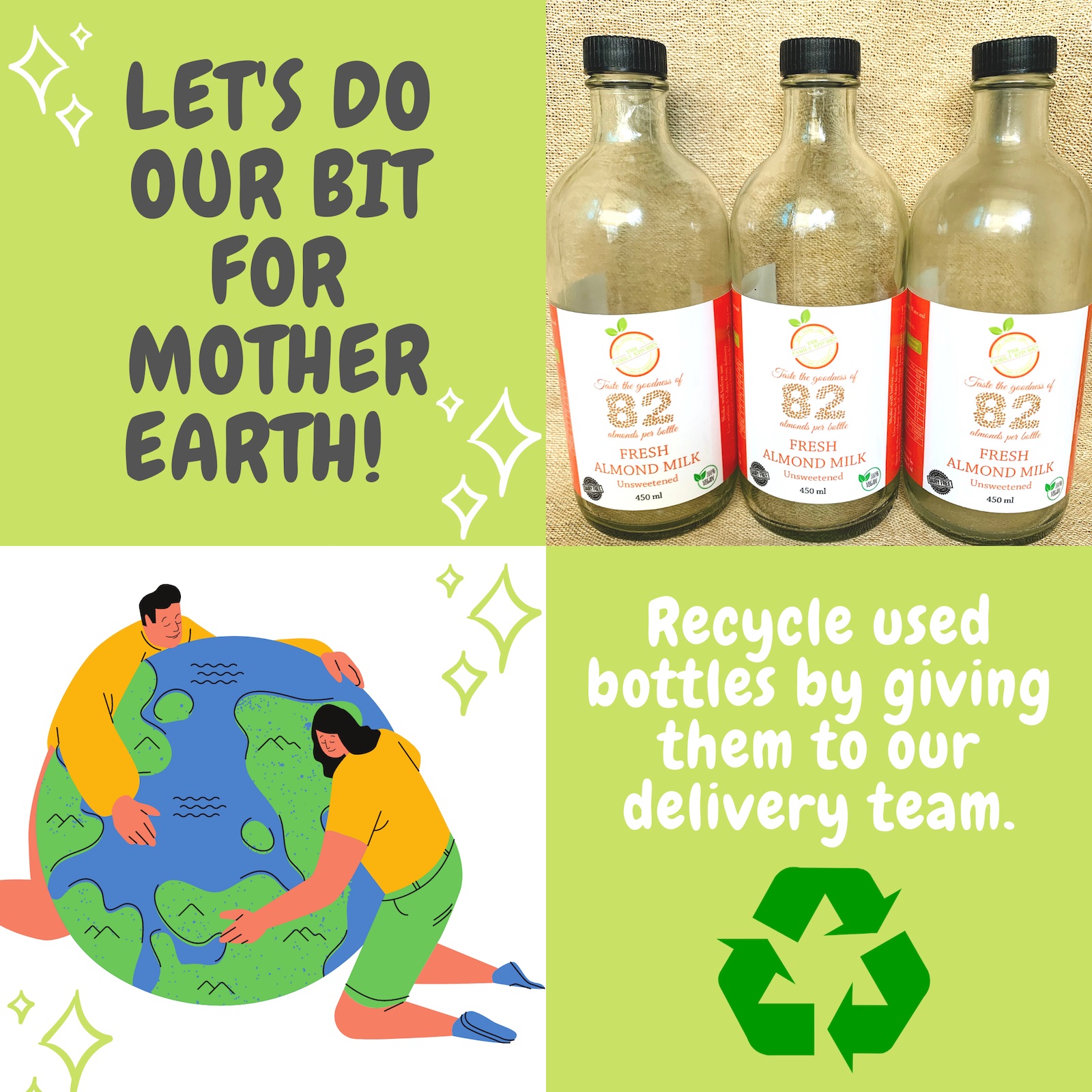 Saving the Planet
One Bottle at a Time
Did you know? You can return the used bottles back to our delivery team and we'll recycle them for you. Let's do our bit for our Mother Earth.
If you are looking to indulge in some Lactose free & guilt free products then The Family Kitchen (Singapore) have the best products with them.
The Fresh Almond Milk & Fresh Almond yogurt are super delicious…have no additives, preservatives or any added flavouring. Just pure , healthy & guilt free products at your doorstep.
Their new addition Strawberry flavoured Almond yogurt is a must try. Excellent snack option ..No flavoring & its made with Real strawberries.
I'm in love with the Almond & Chocolate brownies. Its super dense & so rich in taste that they just melt in the mouth. Its very tempting to reach out for a couple more. Best part: Sweetness is just right.
All the products at The Family Kitchen are made with Healthy & only Clean Ingredients. I love that they have Subscription packages ..details are shared before every delivery about how the products are to be stored & most important the products come in Glass bottles which can be recycled. It's a Win Win for me as the products are clean, organic & eco friendly.
I'm certain there is a lot of thought & love poured in each of the products.
This really is the best and the freshest Almond milk in the market. What sets it apart is that they don't add any preservatives or any artificial flavours to their product. This was a great addition to my meal plans. I've tried many other brands of almond milk in the market, and none of them even come close.
Thank you ' The Family Kitchen' for making this lovely product.
10/10 would recommend.
The most delicious and nutritious almond milk ever made. It's totally fresh and free of any additives, which is a big bonus! Must try to know for yourself. Cheers to The Family Kitchen for introducing such a wholesome and honest product. ??
Love their almond milk. Its delicious, so creamy and great for drinking as-is or add to anything (smoothie, pasta sauces, curries , soups are what I've tried) Also love the fact that it's made locally, and you can choose to recycle bottles.
The best almond milk I've had so far. No nasties, all natural and delicious. Love it in my smoothies and overnight Oats. Comes well packaged in glass bottles and delivered to the door step.
I heard about The Family Kitchen from a colleague, and tried their almond milk recently. It was quite amazing! The milk was fresh and delicious. I will definitely be buying from them regularly.
This product is just what the doctor ordered. Natural,fresh,nourishing,free of additives and preservatives,something so difficult to come by these days. This Family Kitchen Almond Milk is a must have for all the health conscious people out there.
Love their produce! The milk is very rich and amazing quality! They are very responsive and helpful as well. Keep it up please!
Heard quite a bit about this place from friends, and finally tried it! Love the fact that it's fresh and free of preservatives. Great job, guys! 🙂
The best thing about this almond milk is that it is made of whole almonds which makes it so creamy, thick and super yummy!